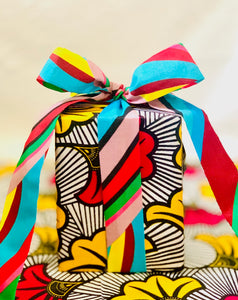 Baby, Keep Smiling! 🌟
Cheer yourself or a loved one up each month of the year with our new special Surprise Subscriber Joy-Scatterers! A box of goodies, handmade here in Zambia and sent to you anywhere in the world each month you choose to subscribe for!
Monthly Gifts of Joy
Each Surprise Subscriber Package encloses one special surprise item, whether a stand-alone product like one of our fabulous bright Chitenge tablecloths or a set of four, such as our striking napkin sets or handcarved elephant napkin rings, all featured on our shop!
You will never receive the same gift twice and we'll be sure to keep you on your toes as to what surprise is coming your way next each month!
You can look forward to a range of potential joy: such as cushion covers, placemats, napkins, napkin rings (plain, elephants, and more), runners, dish or pot covers & beyond!
Choose how many months in the year you'd like your subscription for. For instance:
From Jan-Dec = 12 months, Feb-Dec = 11 months, March-Dec = 10 months... 
All the better to scatter joy all year long, when you may need it the most or to encourage you to celebrate life's big and small things every month!
Join the amazing Zambezi Makers in our Zambezi Joy Society and commit to many wonderful meals and festivities in the upcoming year, while helping to support local makers here on the ground.