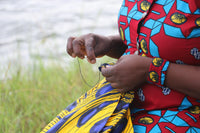 Find Your Chitenge Cheer
The Zambezi Joy Society brilliantly blossomed into business in June 2020 with a deep, dedicated desire to spread chitenge cheer around this great and giddy globe.
Through the ribald, ridiculous and repugnant trauma of COVID, the soil and soul of our team of local, Zambian artisans was fertile with new ideas. This is how our Little Shop of Colours was foundered, flowered and fruited.
CHITENGE (CHI-TENG-GEH)
Zambezi Joy Society's heart is wrapped in the most boisterous and beautiful chitenge, the name Zambians give to the bold, bright, and blissful fabric used in the majority of our products.
Worn by women traditionally as a sign of respect, chitenge is wrapped around the waist, chest, over the head as a headscarf, or even as the most snuggly baby sling. Zambian women also use this fabric to make beautiful outfits which are used for celebratory occasions.
The spectacular spectrum of colours and sometimes discombobulating designs on the fabric were originally done using traditional techniques, but have evolved to include more modern practices too.
We hope that you can join in the fun and brighten your world (and ours) with our reimagined use of chitenge in your home. Chitenge cheer for the win!
This is the kind of cheer that also helps to empower small local business women and men.
With joy,
Aggie Banda - Founding Partner, Online Host & Brightest Star In The Sky;
Tina Aponte - Founding Partner, Chief Table Layer & Background Crafty Person.
TAKE A LOOK AT OUR COLLECTION HERE
Who We Are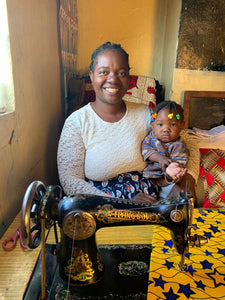 The Zambezi Businessladies
We have been working for many years with local makers in the villages around us or in the town of Livingstone, Zambia ~ including women who have empowered themselves through small businesses, making and selling Chitenge designs and other traditional crafts, such as reed and wood items. These are the women behind our shop!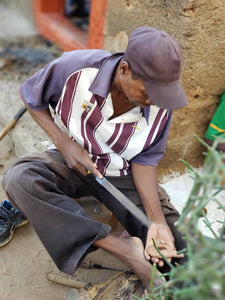 The Men Making & Shaking
Many incredible men around Royal Chundu have created items to accompany the tablesettings, such as napkin holders! Bathrewmeo is our dedicated carver and uses both his hands and feet to create his pieces. Mabi, who lives in the Malambo Village next to us, is the incredible artist behind our hand-carved and beaded Zambezi doorbells - which are available for purchase in the link below.
Ring My Bell!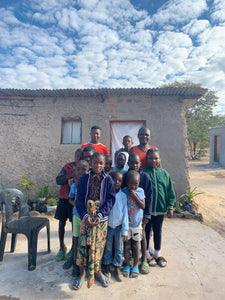 Makers Of Africa
We have expanded our reach of artists and suppliers to incorporate more of the families who continue to inspire us with their can-do, will-do, never-give-up spirit and the love and passion with which they create their goods, here on the banks of the Zambezi River in Zambia, as well as elsewhere in the country and further north and south in the continent.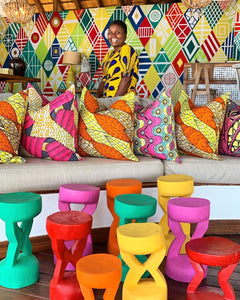 With Love From Zambia
As our shop grows so will our collections that are available to order! We're excited to have friendly shipping prices and we are able to deliver to anywhere in the world!
CONTACT US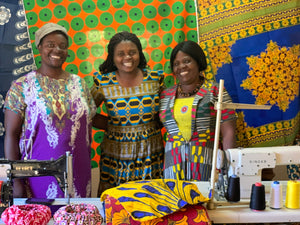 Small Steps & Good Deeds
We're incredibly grateful for all the support our sweet little shop has garnered thus far! Not only for the joy of sharing our vibrant Chitenge cheer and the patterns of the Zambezi with you, but also because it's meant that our Zambezi makers have been able to bring in an income. And more....! With the profit from our Shop Sales, we've been able to purchase what we set out to from the beginning... an industrial, electric sewing machine for Mrs Njapao, who is creating our beautiful tablecloths for the shop! She has been using an old, non-industrial Flying Dove machine that could only be powered by foot. Her new Juki industrial machine can be powered by electricity or by foot (if load-shedding hits). Mrs Njapao was ecstatic with the new machine! Small steps with huge consequences!
READ MORE HERE >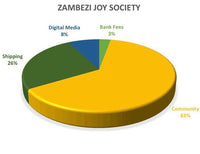 All Shop Profits Go To The Community
There is so much good that we can do through this new endeavour with the incredible Zambezi Makers! We are so grateful to be able to inject the shop profits into the areas in the local community that need it most, especially during these trying COVID times.
Take a look at where the money from our Online Shop goes!
Our Story
There is so much talent and passion all around us at Royal Chundu! We've always endeavoured to support local artists through the lodge as much as possible. And after much interest from our travellers, we're now sharing these talents with the rest of the world too. It was by combining this dream with my love for colourful Chitenge-infused tablesettings for gatherings, simple or grand, with family or friends, that the Royal Chundu online shop was born. An online marketplace to connect you with the inspiring artisans of Zambia, who constantly keep busy, working and creating, to ensure that they can feed and support their families.

Tina Aponte, Royal Chundu Owner
One of the women creating items for our online shop is Joyce Mutakatala. Joyce worked as a housekeeper at Royal Chundu for many years but is now retired. She helps in the lodge laundry when we are very busy and has been making reed mats for the online shop as she is a very committed grandmother with a big family to care for.

Aggie Maseko Banda, Lodge Manager
Mrs Njapao, who lives in a village neighbouring us at Royal Chundu, made all the napkins and tablecloths for our online shop with her old Flying Dove machine, powered by foot. She is hoping to buy herself an electric, industrial machine to help grow her business. We are hoping to help her achieve this goal!

Hessah Silwebbe, Royal Chundu GM