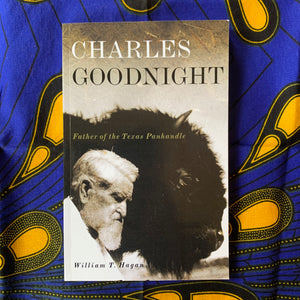 Used. Paperback. Charles Goodnight was a pioneer of the early range cattle industry—an opinionated and profane but energetic and well-liked rancher.
Goodnight's story is now re-examined by William T. Hagan in this brief, authoritative account that considers the role of ranching in general—and Goodnight in particular—in the development of the Texas Panhandle. The first major reassessment of his life in seventy years, Charles Goodnight: Father of the Texas Panhandletraces its subject's life from hardscrabble farmer to cattle baron, giving close attention to lesser-known aspects of his last thirty years.
Goodnight came up in the days when much of Texas was free range and open to occupancy by any cattleman brave enough to stake a claim. Hagan shows how Goodnight learned the cattle business and became one of the most famous ranchers of the Southwest. Hagan also presents a clearer picture than ever before of Goodnight's business arrangements and investments, including the financial setbacks of his later life.
As entertaining as it is informative, Hagan's account takes readers back to the Palo Duro Canyon and the Staked Plains to share insights into the cattleman's life—riding the range, fighting grass fires, driving cattle to the nearest railhead—the very stuff of cowboy legend and lore. This fascinating biography enriches our understanding of a Texas icon.