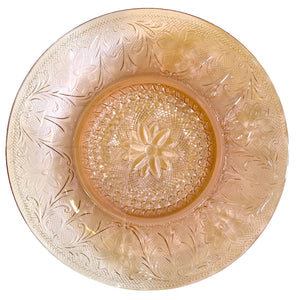 Impress your guests with this one-of-a-kind dinner plate! You'll never have to worry about being served boring food on a regular plate again - because our Pink Tiara Sandwich Glass Plate will totally spruce up your dinner table. What better way to showcase your culinary masterpieces? Wow and WOW!
DIAMETER: 10"
A collection of thrifted crockery, sourced from yards and second-hand alleys.  We use the crockery for our tablescape pictures and in the spirit of SALAULA* we are now sharing them for your enjoyment, too: from our hearts to your homes!
*Definition - SALAULA: The Zambian term salaula means "to select from a pile in the manner of rummaging" or for short, "to pick". Some African nations such as Zambia have a vast internal consumer demand for second-hand clothes or hand-me-downs from rich nations in North America and Europe. (Wikipedia).