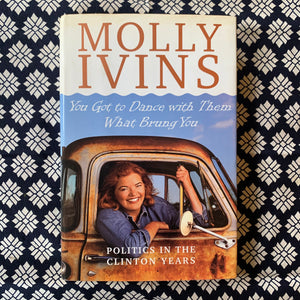 Used. Hardcover.
In this collection, the Colt Peacekeeper of American political humor draws a bead on targets that range from the Libido-in-Chief to Newt
Gingrich, campaign funny-money to the legislative lunacy of her native Texas--and hits a bull's-eye every time.

Whether she's writing about Bill Clinton ("The Rodney Dangerfield of presidents"), Bob Dole ("Dole contributed perhaps the funniest line of the year with his immortal observation that tobacco is not addictive but that too much milk might be bad for us.  The check from the dairy lobby must have been late that week"), or cultural trends ("I saw a restaurant in Seattle that specialized in latte and barbecue.  Barbecue and latte.  I came home immediately"), Molly takes on the issues of the day with her trademark good sense and inimitable wit.