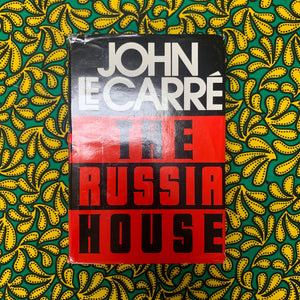 Used. Hardback. 


John le Carre's bestselling classic is a timeless spy thriller about the Iron Curtain and the tense relationship between Great Britain and Russia.

John le Carré has earned worldwide acclaim with extraordinary spy novels, including The Russia House, an unequivocal classic. Navigating readers through the shadow worlds of international espionage with critical knowledge culled from his years in British Intelligence, le Carré tracks the dark and devastating trail of a document that could profoundly alter the course of world events.
In Moscow, a sheaf of military secrets changes hands. If it arrives at its destination, and if its import is understood, the consequences could be cataclysmic. Along the way it has an explosive impact on the lives of three people: a Soviet physicist burdened with secrets; a beautiful young Russian woman to whom the papers are entrusted; and Barley Blair, a bewildered English publisher pressed into service by British Intelligence to ferret out the document's source. A magnificent story of love, betrayal, and courage, The Russia Housecatches history in the act. For as the Iron Curtain begins to rust and crumble, Blair is left to sound a battle cry that may fall on deaf ears.
Review
Newsweek Le Carré is simply the world's greatest fictional spymaster.

The New York Times Book Review An exciting spy story...A well-informed political parable...rich...poignant...fascinating.

Time A plot of commanding suspense...The Russia House is both afire and thought provoking, a thriller that demands a second reading.

People Gripping...articulate...absorbing....Thrilling in every imaginable way.
About the Author
John le Carré was born in 1931. His third novel, The Spy Who Came in from the Cold, secured him a worldwide reputation, which was consolidated by the acclaim for his trilogy: Tinker, Tailor, Soldier, Spy; The Honorable Schoolboy; and Smiley's People.His novels include The Constant Gardner, The Little Drummer Girl, A Perfect Spy, The Russia House, Our Game, The Tailor of Panama, and Single & Single.He lives in Cornwall, United Kingdom.