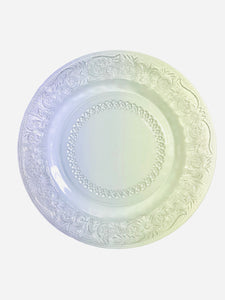 This gorgeous Clear Vintage Trellis Sandwich Glass side plate is here to add a vintage vibe to your meals! Its 7 1/2" design is sure to enhance any spread, providing the perfect canvas for your culinary creativity. With an extra hint of nostalgia, it's the perfect piece for any plate stack!
DIAMETER: 7 1/2"
A collection of thrifted crockery, sourced from yards and second-hand alleys.  We use the crockery for our tablescape pictures and in the spirit of SALAULA* we are now sharing them for your enjoyment, too: from our hearts to your homes!
*Definition - SALAULA: The Zambian term salaula means "to select from a pile in the manner of rummaging" or for short, "to pick". Some African nations such as Zambia have a vast internal consumer demand for second-hand clothes or hand-me-downs from rich nations in North America and Europe. (Wikipedia).